Various Cultural Events Shine APEC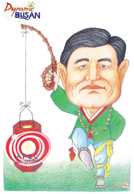 One of the important themes of APEC summit this year is culture as enhancing understanding of culture among participating countries will be a key issue to be discussed during the conference.
As a host city, Busan has prepared various performances and exhibitions in order to enforce its image as an international cultural city and introduce Korea? traditional culture to those who are not yet familiar with it.
More than 20 diverse cultural events are prepared to attract ears and eyes of foreign visitors, including traditional music performances, rock musical performances, theater, photo exhibition as well as art exhibition.
Through Nov. 20, in various places of Haeundae Beach, an exhibition of international flags showing calligraphy by 400 calligraphers from eight countries from Korea, China, Japan, Singapore and Malaysia will be held.
From 9th to 13th, in Busan Cultural Center, National Theater Company of Korea will present one of the most popular traditional comedy repertoires called "Mr. Maeng's Happy Day."Busan Museum of Art has organized a special exhibition titled "Palatial Silk Flower Exhibition of the Joseon Kingdom."It provides a rare chance to witness silk flowers and artifacts used for the court decoration based on the historical record of the Joseon Royal Kingdom in Emperor Kojong's court in 1902. The exhibition will run through Dec.4.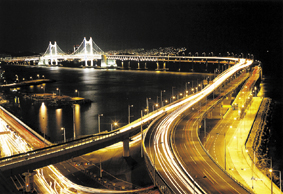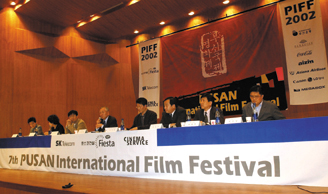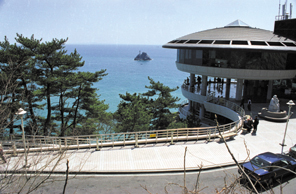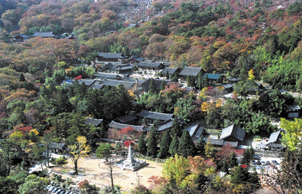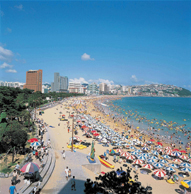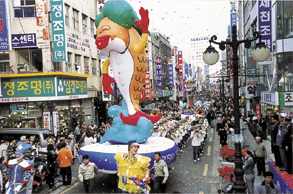 On Nov. 11, more than 100 Asia's pop stars, including Korea's Tong Vfang Xien Qi, Rain, Lee Hyo-ri, Chang Na-ra, Hong Kong singer Kelly Chen, and Thai singer Lanna Commins, will celebrate the summit at the Asia Song Festival at Sajik Stadium.
"Busan Arirang,"a dance performance to celebrate APEC, is one of the highlights of cultural events. It offers a chance to look at and reflect on evolution of Busan through life of Busan-native woman named Yoon Jeong-shim. The show will take place four days since 11th at Grand Theater of Busan Cultural Center.
On 11th and 12th, in a group singing competition in Busan Cultural Center, ethnic music as well as modern music pieces of APEC member countries will be played with their traditional musical instruments. At the same time, in Yongdusan Park, Korea? traditional dance, lion dance will be performed.
Rock Musical "Garak National Flag"that is to be performed in Busan Citizen's Hall for four days since 12th is expected to gain popularity as well. It is a love story of Kim Soo-ro, a king of ancient Kingdom of Gaya .
From 12th to 21st, at BEXCO Exhibition hall, National Theater of Korea will hold a celebrating performance titled "Korea Fantasy"presenting best essence of Korean dance.
One of the must-see events is the state-of-the-art multi-media firework show that will unfold from 8 : 30 p.m. on Nov. 16th in various areas of Gwanganni beach and Gwangan Bridge. It? the largest firework show in Korea, its scale being more than four times bigger than that of Seoul International Firework Festival.
The show will start with a recreated turtle-shaped Geobukseon, a 16th-century Korean warship, entering on the sea.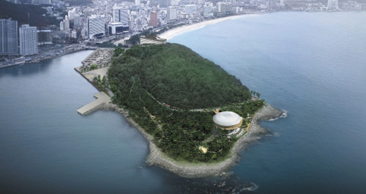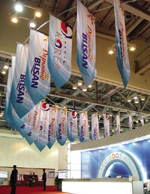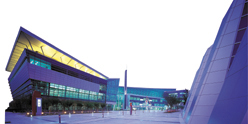 During 50 minutes, about 80,000 aerial bombs will be set off and laser beams of splendid colors will embroider the night sky with three-dimensional visual effect.
On Nov. 17, in the square of Yongdusan Park, the public can enjoy playing diverse traditional Korean games and dances along with artists.
At 8 p.m. on 18th, in large theater of Dongrae Cultural Center, chamber music festival titled "APEC, Fragrance of our Music,"will take place.
At 5 p.m. of 19th, the last day of APEC, "Jongmyo Jereak,"Confucian shrine music, will also be performed at Busan Cultural Center.
Busan opened a preparatory office earlier this month, but something was missing in the planning stages: cultural events to make the high-profile international event a festival for everyone.
But don't worry. About 20 cultural events are scheduled to lighten up the mood at six venues of the city before and during the event. In fact, it is not political leaders nor renowned economists from the 21 member countries but pop stars from all over Asia who will signal the opening of the APEC meeting.
On the night of Nov. 16, the Sajik Gymnasium will be packed with some 12,000 enthusiastic pop music fans as the annual Asia Song Festival will celebrate the opening of the event, featuring some of Asia's most beloved pop stars.
For one of the largest pop music festivals in the region, which is sponsored by the Korea Foundation for Asian Culture Exchange and the Korea Broadcasting System, leading pop stars from seven different countries will congratulate Busan and its citizens on becoming the host of such an important event by singing their hit songs.
The stars include Jang Na-ra, one of the most popular Korean entertainers in China and Taiwan, and Korean boy band sensation Dongbangshingi, or Tong Vfang Xien Qi in Chinese. Debuted during Christmas of 2003, the idol band has gained a steady following since then throughout the entire Asian region. Joining the Korean superstars are Kelly Chen, a Hong Kong singer and actress, Lanna Commins, a beautiful "singing gem"of Thailand, Nanase Aikawa, a Japanese rock singer who is well known to Koreans with a few hit albums released in the country, and the hottest Taiwanese star Alec Su You Peng.
Alec Su and Jang Nara acted together in the Chinese TV series "Sassy Princess."Better known as Jin Hye-rim to Korean fans, Kelly Chen has released 55 albums in Cantonese, Mandarin and Japanese, and has received more than 200 music awards throughout Asia. She has also starred in 13 movies and was the voice behind three animated cartoon characters, including Walt Disney? "Mulan"(1998).
The concert's tickets are available on the official website of KOFACE (www.iko face.com). For further information about the concert, call (02) 737-3520.
For two days from today, the APEC International Choir Olympics will attract music fans of different genres to the Busan Cultural Center. For the competition whose grand prize is $10,000, 30 choirs from 11 different countries will join, pursuing not only the prize money but also borderless friendship.
After the winner performs an encore, a specially teamed up Ambassador Choir will also perform songs. Composed of 25 ambassadors to Korea, the choir will present songs of peace and friendship, which will highlight the APEC celebration through choir music. For further details, call (051) 622-0176. nw

Caricature of Busan Mayor Hur Nam-sik

A nigh view of the Gwangan Bridge

Pusan International Film Festival

Taejongdae

Haeundae Beach

Beomeo Temple

Jagalchi Fish Market Festival

Dongbaek Islet

BEXCO, making preparations for opening APEC 2005 Korea

Convention center BEXCO, the venue of the first APEC Economic Leaders?Meeting