Korea Showcases IT Power During APEC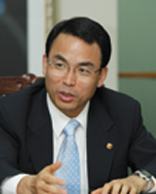 The APEC IT Exhibition, being organized by the Ministry of Information and Communication (MIC), will kick off for a week-long run on Nov. 15 at BEXCO in Busan in time for holding APEC 2005 Korea. The government is organizing the exhibition, the first of its kind in history of the Asia-Pacific Economic Cooperation to demonstrate "IT convergence"services to heads of state and ministers, CEOs and other prominent world leaders participating in APEC 2005 Korea. In particular, attracting global limelight during the exhibition are the demonstration of mobile Internet, WiBro and satellite digital multimedia broadcasting (DMB) services, commercialized by Korea for the first time in the world.
Exhibitors of APEC IT Exhibition are the MIC, the Ministry of Commerce, Industry and Energy, the Ministry of Maritime Affairs and Fisheries, the Ministry of Education and Human Resources, the Ministry of Government Administration and Home Affairs, the Busan Metropolitan Government,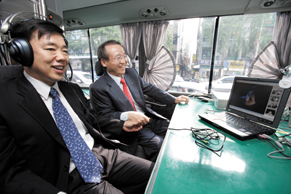 Samsung Electronics, LG Electronics, KT and SK Telecom.
APEC IT Exhibition is divided into three sectors - IT exhibition pavilions, IT sculptures symbolizing Korean tradition and nature, and experimental satellite DMB and WiBro services.
IT Exhibition is aimed at helping the participants of APEC 2005 Korea get a glimpse of futuristic life being pursued for the realization of "Ubiquitous-Korea,"a society under the so-called MIC's IT 839 Strategy. IT exhibition pavilions are comprised of eight theme pavilions - Highlight Zone, managed by the MIC, Ubiquitous-Port Pavilion by the MOMAF and Busan Metropolitan Government, E-Learning Pavilion by the MOCIE and Ministry of Education and Human Resources, E-Health Pavilion by the Ministry of Health and Welfare, Robot Pavilion by the MOCIE, Cultural Contents Pavilion by the Ministry of Culture and Tourism,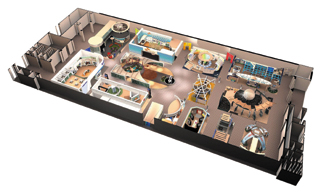 e-Trade Pavilion by the MOCIE and e-Government Pavilion by the MOGAHA and four corporate pavilions for Samsung Electronics, LG Electronics, KT and SK Telecom.The IT Exhibition takes the U-type shape of symbolizing - an affluent, ubiquitous IT world,and the VIP Lounge located at the center of the exhibition will serve as a resting place for visiting APEC heads of state as it is decorated with a digital pond, adding to a mysterious mood.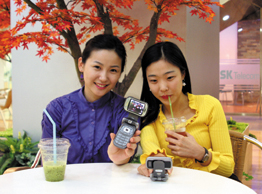 IT-theme sculptures, made of a combination of Korean tradition, artistic world and IT will provide an opportunity for APEC participants to appreciate the beauty of Korean tradition and nature. Sculptures decorated with such advanced IT products as PDPs and LCDs and digital images featuring Korea's nature and prominent artistic pieces will be attracting the eyes of participants."Digital Globe, a representative IT-theme sculpture in the Highlight Zone,symbolizes a healthy co-prosperity and co-existence of IT technologies.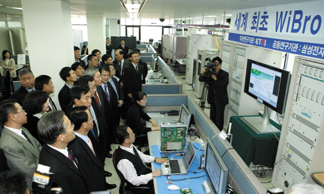 The sculpture indicates our goal of spreading our success story in informatization and its benefits to the less informatized stratums and developing countries,"an MIC official said.
SK Telecom and KT will offer DMB and Wibro terminals to heads of state, ministers and their entourage,businessmen and the press participating in the APEC 2005 Korea free of charge, respectively, in a bid to publicize Korea's leading ICT services. WiBro repeater will be set up around such areas as BEXCO, Dongbaek Islet and hotels in Haeundae.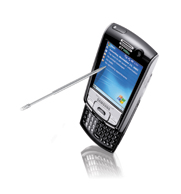 TU Media, a satellite DMB service provider, will broadcast special programs on APEC in English via Arirang TV network for 12 hours each day.
Visitors to the IT Exhibition Center will be given an opportunity to experience changed life patterns through home network, human robots and U-City.
The MOCIE will showcase e-Health, human robot performances, cyber space transactions and have consultation meeting with buyers.
U-Port Pavilion
U-Port Pavilion, run by the Ministry of Maritime Affairs and Fisheries and the Busan Metropolitan Government, is divided into four sections - U-Port Busan, Hub-Port Busan, Marine IT Busan and 2012 Expo Zone.
The U-Port Busan section shows the simulation of high-tech Busan Port,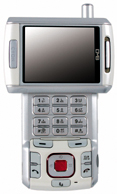 while the Hub-Port Busan section presents introduction of Busan Port, current status of Busan Port, merits of Busan Port, service-oriented port management, new investment opportunity in Busan Port, distribution park development, redevelopment of oil port and future of Busan Port. The Marine IT Busan section displays such advanced IT technologies and related products as "Intelligent port," "Intelligent ship,"and RFID and U-Port, while the 2012 Expo Zone publicizes the 2012 Expo Yeosu City wants to host.
Corporate Pavilions
Spectators can experience mobile Internet WiBro service from the Samsung Electronics Pavilion. They can also sample satellite and terrestrial digital multimedia broadcasting (DMB) services. The pavilion displays the world's largest display panels, including 102 inch plasma display panel (PDP), 82 inch liquid crystal display (LCD) and 80 inch PDP.
The LG Electronics Pavilion showcases the latest LCD TV, PDP TV, Super Slim TV, LCD monitors, mobile phones and DMB notebook PCs.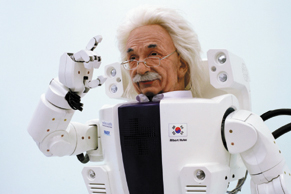 The KT Pavilion demonstrates diverse contents of such portable devices as WiBro and broadband convergence network (BcN), and other its own developed systems and solutions.
The SK Telecom Pavilion demonstrates satellite DMB, telematics, digital home, M-Finance and W-CDMA services as well as innovative wireless Internet services like MelOn, Game, Cyworld, 1mm and Cizle.
About IT 839 Strategy
Korea's attempt to set the foundation for an information society started in the 1980's and lasted until the early 1990's. In the mid 1990's, government wide informatization began in earnest. The Framework Act on Informatization Promotion, enacted in 1995, coupled with the broadband network catalyzed the renewed drive for informatization.
The IT industry in Korea grew from almost nothing to becoming one of the world? IT leaders' in 20 years. IT infrastructure such as broadband Internet and mobile communication are among the world's best. Based on the broadband networks and IT technology, Korea is leading the world in semiconductor production, mobile phone production, TFT-LCD, digital TV and Internet games. This was made possible by introduction of services that create new demand, infrastructure that enables such services and improvement of manufacturing capability.
The IT industry recently has shown second growth momentum as the broadening of network bandwidth and convergence blur boundaries between industries. Thus, the Korean Government announced the IT839 strategy to transform second growth momentum into the driving force of national development by converting the IT industry into a positive cycle structure. The IT839 strategy's objective is to link IT service, infrastructure to create the future growth engine and push the IT industry growth model by realizing a 'digital life'
Korean society is fast becoming a dynamic and innovative civilization as the open and network nature of IT is combined with Korean cultural characteristics. nw

1. Minister of Information and Communication Chin Dae-jae

2. MIC Director-General Kim Dong-soo and KT President Nam Joong-soo in a WiBro-operated car.

3. The inside of APEC IT Exhibition

4. Women enjoy Satellite Digital Multimedia Broadcasting (DMB) phone service offered by SK Telecom

5. Samsung Electronics tests-operates the system for offering the wireless Internet service WiBro for the first time in the world in its lab in November 2004.

WiBro M-8000B by Samsung Electronics
SB130 DMB Phone by LG Electronics

Humanoid robot, dubbed ?lbert Hubo,?nicknamed after world-renowned scientist Albert Einstein. The robot, produced by KAIST, appears at the APEC IT Exhibition.