APEC CEO Summit to Declare Anti-Corruption
Brings together more than 800 foreign, Korean business leaders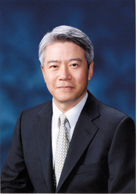 Foreign and Korean business leaders are expected to adopt a communiqu?on anti-corruption at the end of the APEC CEO Summit that will be held in November 17-19 on the sidelines of the APEC 2005 Korea in Busan.
Hyun Jae-hyun, chairman of Tong Yang Business Group, who chairs the APEC CEO Summit, said "We are collecting signatures from about 800 foreign and Korean businessmen participating in the APEC CEO Summit on the declaration of anti-corruption, and the statement for the cause will be delivered to President Roh Moo-hyun, chairman of APEC 2005 Korea." .'Korea, which greatly depends on exports cannot prosper unless trade and investments are liberalized, and the nation will have to promote liberalization of trade and investments, tenets of the establishment of the Asia-Pacific Economic Cooperation"Hyun said in a meeting with the press on November 2 at the Federation of Korean Industry Building in Yeouido. He was apparently referring to civic activists'movements to disrupt the upcoming APEC Korea 2005.
"APEC Korea 2005 is the largest one in the history of Korean diplomacy in terms of scale and participating manpower with all heads of state from four superpowers ¡ª the United States, China, Russia and Japan ¡ª participating, and all the people should join in efforts to enhance Korea's standing,"he said. However, Hyun said, nations have to make efforts to cope with such issues as bipolarization among nations and promote collaboration. APEC member economies have to discuss ways of developing economies by facilitating and liberalizing trade and investments, he said.
APEC 21 economies account for 65 percent of global trade, and there are emerging problems such as how to manage a recent surge in Free Trade Agreements and how to solve conflicting issues pending World Trade Organization (WTO) and other multilateral trade negotiations, he said.
As of October 31, 761 executives from Korea and abroad had applied for their participation in the APEC CEO Summit, and the final list of participants will be tallied at more than 800, he said. The applicants include 233 from Korea, 123 from the United States, 105 from China, 39 from Russia, 30 from Hong Kong, 29 from Taiwan and 25 from Japan. The APEC CEO Summit 2005 will be the largest one since its establishment, given the fact that the APEC CEO Summit 2004 attracted 800 participants, but they included Chinese businessmen.
The APEC CEO Summit is a prestigious annual event that provides opportunities for business leaders from the Asia-Pacific region to hear presentations from APEC Economic Leaders, economists, policy makers and other business leaders about relevant economic and trade issues.
The APEC CEO Summit 2005 will explore the theme, "Entrepreneurship and Prosperity: Building a Successful Partnership in the Asia-Pacific Region" Faced with the current uncertainties that put international societies at risk, business and government are called upon to devise ever more innovative strategies to cope with unprecedented challenges.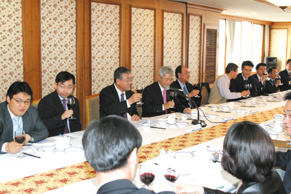 Entrepreneurship will play a key role in overcoming these challenges and has the potential to lead the region to further prosperity. In particular, it is vital to forge strong partnerships between economies in the region as well as between the private and public sectors to lay the ground work for common prosperity in the Asia-Pacific region.
Issues that will be addressed include global energy challenges, terrorism, global competitiveness in a borderless economy, natural disasters and corporate responsibility, ICT, globalization issues and challenges, the WTO Doha Development Agenda, and finding lasting solutions to the North Korean issue, among other key topics.
The APEC CEO Summit 2005 in Busan will also provide an unmatched opportunity to reinforce business networking among top business leaders in the region.
Ten heads of state will deliver keynote speeches during 10 summit sessions of the APEC CEO Summit 2005. Prominent foreign participants will participate in seven other discussion sessions. Chinese President Hu Jintao will participate in Session 6: The Implications of China? Economic Growth on the Economies of the Asia-Pacific Region to explain China's rapid growth and changes in recent years. Indonesian President Susilo Bambang Yudhoyono will speak about natural disasters and global responsibility during Session 8: Natural Disasters and Global Responsibility. Russian President Vladimir V. Putin will deliver a keynote speech during Session 12: Russia and APEC: Building a Successful Partnership, while Korean President Roh will speak about a theme: "Toward One Community: Meet the Challenge, Make the Change"during Session 13.
Prominent foreign participants in the APEC CEO Summit 2005 include Russian oil mogul Aleksei Miller, chairman of the board of the Gazprom,; William R. Rhodes, chairman of Citigroup,; John Chen, chairman & CEO of Sybase,; B. Hynes III, president & CEO of Gale International.; Chengyu Fu, president of China National Offshore Oil Corp.,; and Shang Bing Graig Mundie, senior vice president & chief technology officer of Microsoft. The participants from Korean companies include Tong Yang Group Chairman Hyun, SK Group Chairman Chey Tae-won, Hyosung Group Chairman Cho Suk-rae, KAL Chairman Cho Yang-ho, LS Group Chairman Koo Ja-hong, Daelim Industrial Chairman Lee Jun-yong, Isu Group Chairman Kim Sang-beom, Samyang Corp. Chairman Kim Yoon, Samsung President Hwang Chang-kyu, Woori Bank President Hwang Young-key, KT President Nam Joong-soo and Daewoo Auto & Technology President-CEO Nick Reilly. nw

Hyun Jae-hyun, chairman of Tong Yang Business Group and concurrently chairman of the APEC CEO Summit

Hyun Jae-hyun, chairman of the APEC CEO Summit, explains the background of the gathering to reporters at the FKI building together with others, including FKI Vice Chairman Cho Kun-ho and FKI Executive Director Ha Dong-man.