Progress in Inter-Korea Ties Helps Boost APEC Moo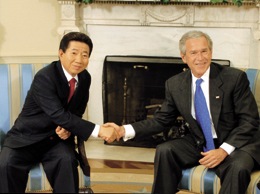 The thawing relations between South and North Korea has been helping boost the favorable atmosphere for the ongoing APEC conference in Busan.
Progress in inter-Korean relations has been essential toward the goal of guaranteeing the successful hosting of the international event as South and North Korea have been technically at war since the 1950 Korean War.
Rep. Lee Ke-jin of the opposition Grand National Party offered a toast of "poktanju,"a mixture of whiskey and beer, to North Korean leader Kim Jong-il in a letter posted on his party? Web site on Oct 31.
The conservative party lawmaker said that his letter was intended to appeal for Kim? "leniency"of allowing a daughter in the South to meet her father, who was abducted to the North while fishing in the West Sea in 1987.
In Korean culture, proposing a round of liquor to somebody is considered as offering an olive branch, especially in cases when they go through a cooling-off period after a big fight.
Regardless of the letter's purpose and the grave reality of the Korean Peninsula, which is still divided and technically at war, the proposal of drinking poktanju with the North Korean leader signifies the changing relations of the two Koreas from enemies of the 1950-53 fratricidal war to dialogue partners for peace and prosperity.
"If he is a man of high caliber, I thought he would accept my proposal at least sometime soon,"Lee said. " thought it would be good to resolve pending inter-Korean problems, such as the abductee issue, in an amicable way."Even though Western leaders, including U.S. President George W. Bush, frequently call Kim Jong-il a "tyrant"and many South Koreans still think their Northern brethrens are starving due to the country's economic management by their leader, it is also true that Kim Jong-il's image has been improved a lot in South Korea.
Such a change began in full swing in June 2000 when former President Kim Dae-jung traveled to Pyongyang for the first-ever summit with Kim Jong-il.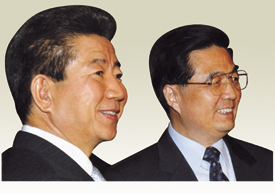 Then the North Korean leader, who was previously regarded as a "bastard,"surprised many South Koreans by displaying proper courtesies to his South Korean counterpart and even making jokes on foreign media which used to described him as a "clandestine"leader.
As a lawmaker of the conservative opposition party, Lee, 59, made it clear that North Korea should be more open to the world and adopt a more reciprocal approach in its policies toward South Korea. But the broadcaster-turned-politician was not reluctant to describe Kim as a man of "flexibility"in some ways, comparing him to his late father Kim Il-sung, who founded North Korea.
"I personally think that Kim is more flexible and open to negotiation than his father Kim Il-sung, whose only dream was to unify the Korean Peninsula by invading South Korea,"Lee said. "It seems like Kim Jong-il is a leader who could somewhat modify himself to the rapidly changing global society."Lee's proposal of poktanju shows how much the cross-border relations have been changed,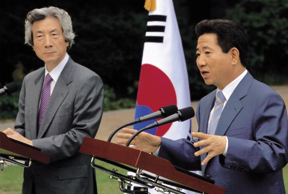 Vice Unification Minister Rhee Bong-jo said.
"I think South Korea's engagement policies toward North Korea, which began 17 years ago when former President Roh Tae-woo announced a July 7 declaration, are now producing tangible results,"Rhee said. "The proposal of poktanju is an example of the changing inter-Korean relations."There are many signals indicating that the two Koreas have undergone big changes.
By the end of this year, more than 170,000 South Koreans would have stepped on North Korean territory since the end of the 1950-53 Korean War. Especially, the year 2005 will mark a watershed in the history of cross-border relations because it ushers in an era of active exchanges of personnel with more than 100,000 South Koreans visiting the North annually. Moreover, if the government includes the 300,000 South Korean tourists?visits to Mt. Geumgang, the total number will top 400,000 this year.
"So to have more people freely traveling between the two Koreas would be a short cut to reaching a de facto unification,"Unification Minister Chung Dong-young earlier said.
In 2006, 300 factories will enter the industrial park in Gaeseong, a historic North Korean city located just 12 kilometers north of the demilitarized zone (DMZ), and the number of North Korean employees will increase from 4,700 to 100,000 and they will be working side by side with around 15,000 South Korean employees in the same factories, Chung predicted.
A big development has been made in the inter-Korean relations as government officials proudly say. But, as Lee indicated in his letter to Kim Jong-il, there is also a dark side to the developing relations, which the lawmaker thinks is not properly addressed.
Among other issues, such as the North's poor human rights situation and the dangerous desire for nuclear bombs, Lee said that he wanted to arouse South Koreans'attention to the suffering of abductees and their families in South Korea, like Choi Woo-young, 35, whose father was kidnapped together with 11 other fishermen 18 years ago.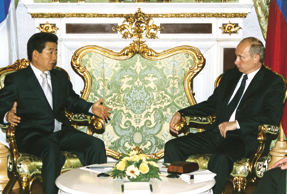 In her own letter to Kim Jong-il, which was published in a newspaper in Seoul on Oct. 19, Choi said that she wants to know at least whether her father is still alive.
She also expressed her hope that the Kim Jong-il regime would kindly give a traditional birthday treatment to her father who turned 60 on Oct. 26. Many South Koreans still remember the 400 pieces of yellow ribbon she tied to a tree at Imjin-gak Pavilion in Paju near the Demilitarized Zone (DMZ) on Oct. 23.
A total of 3,795 South Koreans were abducted to North Korea after the Korean War. Among them, 485 people are still detained in the North, the Unification Ministry said in a report to the National Assembly earlier this year.
In the report, the ministry also said that at least 542 South Korean soldiers, who were caught as prisoners of war, are confirmed to be still alive in North Korea.
"What I wanted to say by writing the letter was to urge Kim to allow all separated family members, like Choi, to meet again and live together, if he is really a good man as his propaganda outlets are always trumpeting,"Lee said.
The lawmaker, however, said he does not expect Kim to reply to his letter. The chance of drinking poktanju together with "Dear Leader"will not likely come anytime soon. nw

President Roh in summit talks with U.S. President George W. Bush on June 11, 2005
Courtesy on the Government Information Agency

President Roh in summit talks with Chinese President Hu Jintao

President Roh in summit talks with Japanese Prime Minister Junichiro Koizmi on Nov. 29, 2004
Courtesy on the Government Information Agency

President Roh in summit talks with Russian President Vladimir Putin on Sept. 21, 2004
Courtesy on the Government Information Agency