Samsung Electronics:
Mobile Technology Leader
World's first 16Gb NAND flash memory using 50-nm technology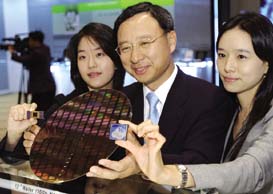 Samsung Electronics Co., Ltd., a leader in advanced semiconductor solutions, announced three new technologies targeted at the expanding, multi-facetted mobile application industry.
At a press conference held today in Seoul, Hwang Chang-gyu, Samsung Electronics' semiconductor business president-CEO, introduced the new devices - a 16Gb NAND flash memory using 50-nm technology for increased mobile storage; a 7.2 mega-pixel CMOS image sensor for high-end digital pictures; and fusion semiconductors for next-generation smart phones and PDAs, MP3 music players, and subscriber identity module card applications.
"Consumers are looking for ever smaller, more stylish mobile devices,"President-CEO. Hwang said. "This poses a challenge for the semiconductor industry to create chips that meet the high-performance, high-density and minimum space requirements but don't become a power drain. We're uniquely positioned to address the market with high value products as we are the only company that manufactures all the discrete components that go into these new solutions."

Increased Mobile Storage
Samsung has developed the world's highest density NAND flash - a 16Gb multi-level cell (MLC) NAND memory. The 16Gb NAND density was achieved with the industry first use of 50-nanometer (nm) technology directly applicable to mass production processes and by using Samsung's proprietary 3D-transistor architecture. The finer geometry substantially reduces the noise level between cells and enables continued migration of storage platforms.
"Memory is opening a bold new world in consumer electronics,"he said. "With cards containing multiple 16Gb flash memory chips, you will be able to take your entire music and personal video libraries with you on one small portable device."
The new 16Gb memory device should accelerate further expansion of the NAND flash market across mobile and portable digital applications as an alternative to mini-HDDs (hard disk drives) and even HDDs for laptops. The development of the 16Gb NAND flash comes at an opportune time as consumer electronic (CE) manufacturers are now considering the introduction of NAND-based storage to bolster performance and power consumption levels in new CE gadgets.
Development of the 16Gb NAND flash memory makes it easier to store massive amounts of data on small portable devices. Availability of Samsung's 16Gb NAND will allow mobile and portable application designers to use memory cards with densities up to 32-Gigabytes (GBs) by combining up to 16 such devices on a single card. A 32GB density translates into the ability to store either 200 years of an average daily newspaper, 8000 MP3 music files (680 hours) or 20 DVD resolution movies (32 hours of high resolution video footage) on a mobile device.
The cell size of Samsung's new fingernail-sized flash has been reduced 25% from that of the 8Gb NAND memory developed last year using 60-nanometer technology. The new flash memory boasts the industry' smallest cell size - 0.00625 square microns per bit (зн2/bit). The 16Gb device holds 16.4 billion functional transistors, each measuring one two-thousandths the thickness of a piece of human hair.
Samsung plans to begin mass producing its 16Gb NAND flash in the second half of 2006. This year's introduction of 16Gb NAND flash continues Samsung success in doubling memory density for each of the past six consecutive years.
The NAND flash market has enjoyed a compounded annual growth rate of 70 percent from 2001 through 2005. This year, total NAND revenues are expected to exceed that of NOR flash for the first year ever.
Higher Resolution Reflects Industry Attention
Samsung has developed a 7.2 megapixel CMOS image sensor (CIS) for many different types of compact digital cameras. Higher resolution CIS chips reflect an industry-wide attention on CIS technology as a promising new imaging technology as well as a feasible replacement of charge-coupled device (CCD), especially in mobile applications such as camera phones, digital still cameras and digital camcorders. It is the world's first 7.2M-pixel CIS for compact cameras with the smallest pixel size.
Samsung's 7.2M-pixel CIS has a 1/2-inch lens aperture and a 2.25um pixel size. The proprietary pixel structure enhances the fill factor over 55 percent and delivers high signal to noise ratio. Copper technology has been used for interconnects, and the resulting reduced pixel height gives high focusing efficiency and sensitivity.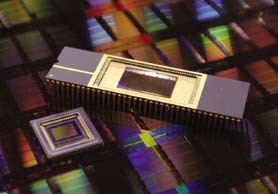 The overall performance is comparable to,or even exceeds, CCD quality.
Fusion Semiconductor Technology for Mobile Applications
Leading the mobile convergence trend, Samsung has developed multi-featured Fusion Semiconductor solutions that provide space and power-sensitive packaging solutions for mobile applications. Fusion Semiconductor solutions combine memory and system LSI semiconductor devices into a single solution.
Samsung's new package-on-package (PoP), the SC32442 MSP, stacks together a high-performance, low-power mobile application processor with a memory multi-chip package (MCP), which contains NAND flash and low-power mobile SDRAM. With dimensions of 14x14x1.6mm, Samsung's new PoP can offer up to a 60 percent space saving on mobile handheld printed circuit boards (PCBs), compared to using discrete processor and memory devices.
The new SiP for MP3 players carries a low power MP3 decoder, audio CODEC chipset, NOR flash for code execution, and NAND flash for MP3 file storage. The SiP has a flexible design with NAND density of 512MB can easily be brought up to 1GB. The CODEC and NOR flash can also be selectively removed. The base design can then be utilized to meet the diverse features of MP3 players. Samsung's SiP can also resolve the large area coverage of the individual components and enable set designers to introduce even smaller or slimmer new MP3 players.
The new S-SIM for high-density SIM cards mounts a collective choice of in-house memory and system LSI technologies in a single package: a 128MB NAND Flash, a NAND Flash controller, and a SIM card IC. Samsung? S-SIM SiP solution provides a diverse set of high-speed interfaces including MMC, USB and several hundred-mega bits-per-second data transfer level that matches that of a PC. nw

Hwang Chang-gyu, Samsung Electronics'semiconductor business president-CEO, unveils the world? first16Gb NAND flash memory using 50-nm technology for increased mobile storage.

A 7.2 megapixel CMOS image sensor (CIS) for many different types of compact digital cameras

Samsung Electronics at Center of Phenomenal "Flash Rush"

Samsung Electronics Co., Ltd., announced that the semiconductor industry is at a major turning point in the use of memory for data storage. Referring to a modern-day ?lash Rush,?Hwang Chang-Gyu, president and CEO of Samsung Electronics?Semiconductor Business, said that tremendous advancements in NAND flash as well as a surge in the memory's supply and demand, is forever changing the way consumers and businesses use portable computer and electronics technology.
The future of NAND is setting the stage for an irreversible shift in the design of digital end products as NAND becomes the key storage medium for data in virtually any portable form,Dr. Hwang said at a press conference Sept. 12 at the Shilla Hotel in downtown Seoul, Korea.
He compared the growing embrace of NAND technology for data storage applications to that of the Gold Rush of 1849, which permanently transformed the value and importance of gold around the word almost overnight.
NAND flash will eventually replace other storage mediums, especially those used in mobile products, creating a Flash Rush,as NAND continues to register an unprecedented surge in demand as the backbone of the mobile electronics era,Dr. Hwang added.
When Samsung introduced the ?ew Memory Growth Model?at an ISSCC conference in 2002, NAND was predicted to show double density growth annually. Indeed, the predictable rapid evolution of NAND flash density from 256 Megabits (Mb) in 1999 to 8Gb in 2004, is playing a major role in its becoming the new primary storage medium for portable digital products.
Dr. Hwang predicted that the phenomenal speed at which the industry is shifting to NAND flash will trigger a ripple effect across the electronic industry that will result in increased portability, a wealth of new design choices and much more convergence in digital applications.
Samsung's 16Gb NAND flash memory, revealed Sept. 12 in a separate announcement, will further spur the proliferation of NAND as the dominant storage medium in portable digital applications from DSCs, USB drives, MP3 players, DVCs, PMPs and mobile handsets to tablet PCs, sub-notebooks and even some notebooks where NAND is beginning to compete aggressively with mini HDDs. (hard disk drives).
In 2002, when Samsung foretold the dramatic shift in storage mediums, market forecasts for NAND predicted a mere US$1.7Billion in revenues this year, while global NAND flash memory revenues are actually expected to reach US$9.4billion this year, more than a five-fold increase. Over the past four years, NAND flash market has witnessed a compounded growth rate of 70 percent annually. This year, it appears clear that NAND will surpass NOR as the most popular flash memory.