KEPCO Capitalizes on Local Expertise
to Explore Foreign Markets
Its latest overseas exploration efforts include an agreement with Costa Rica and a wind power project in China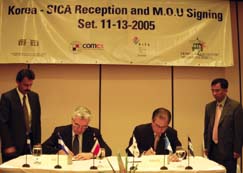 KEPCO, cashing in on its accumulated expertise and experience in the domestic power generation sector, has been accelerating its presence in overseas markets with the goal to become a global power generation player.
In the latest overseas market exploration efforts, KEPCO President Han Jun-ho signed an agreement on exchanges and cooperation in the power generation sector with his Costa Rican state-owned power company Instituto Costarricense de Electricidad (ICE) counterpart Carlos Obregon Sept. 13 in San Jose.
Under the agreement, KEPCO is expected to promote information-sharing and exchanges with ICE in such business arenas as power generation, transmission and fuel development as well as wind and other new and renewable energy sources through which KEPCO hopes will eventually establish a solid foundation for its entry into energy development and other projects in the region. ICE, established with investments by the Costa Rican government in 1949, is responsible for power generation, transmission and distribution as well as all communication sectors. The Costa Rican company is recently implementing a project to expand power transmission networks.
KEPCO's latest agreement with ICE comes on the heels of the Korean company's conclusion of a similar deal with Brazil's power company on collaboration projects and exchanges, made last May as part of its efforts to explore the Latin American market.
Earlier, KEPCO President Han also discussed matters of mutual concern, including cooperation in the power sector, during his meeting with executives of Mexican state-owned power company, Comision Federal de Electricidad (CFE) in Mexico City Sept. 8.
In an effort to strengthen its presence in China, KEPCO has decided to participate in a $57.5 million project to build a wind power plant with a capacity of 49,000 kW in Gansu Province. KEPCO becomes the first Korean company to launch a Clean Development Mechanism project in a foreign country.
The joint venture project between KEPCO and Datang International Power Co., one of China? largest power companies, will break ground next month with completion slated for next June. China is planning to raise its wind power generation capacity from current 800,000 kW to 50 million kW by 2030.
KEPCO officials said $38.3 million, or 66.6 percent of the total paid-in capital, will be financed by Chinese banks, and 40 percent of the remaining $19.2 million will be shouldered by KEPCO, which will be given the right to operate the projected wind power plant for 20 years as the second largest shareholder under a BOO (Build, Own & Operate) project.
KEPCO will receive additional benefits, including annual dividend of 10 percent plus tax credit and interest rate benefits as well as supplementary profits worth about projected $ 6 million or $300,000 per annum, stemming from an annual reduction of 110,000 tons of carbon dioxide in the wake of the entry of force of the Kyoto Protocol on climate change. The projection is based on 6 Euro/ton ($7.7/ton). The carbon dioxide tax is traded at somewhere between 2 Euro/ton and 30 Euro/ton.
KEPCO's participation in the wind power plant project is the third one in China. The Korean electricity leader is participating in a joint venture with the Chinese side in accordance with an agreement, concluded last December with Henan Province authorities to construct two 600-megawatt coal-fired electricity generators in Jiozhou City. Earlier, it also was awarded a project to build two 50-megawatt generators for a co-generation power plant in the city.
Prospects for KEPCO's entry to the Chinese market are rosy. China needs to have 30,000,000 kW more power capacity every year to meet a surging power demand as the Chinese power generation market with a capacity of 380,000,000 kW in late 2003, has grown an annual rate of 10 percent. China's annual additionally required power capacity is equivalent to 60 percent of Korea's current total power generation capacity standing at 56,000,000 kW.
China is apparently showing keen interest in KEPCO's participation in fluidized bed combustion power and nuclear power plant projects.
China emerges as one of the world's largest nuclear power plant construction markets as she plans to build 20 nuclear power plants with a total capacity of 36 million kW by 2020. Korea, which is self-reliant in terms of technology by developing her own Korean Standard Nuclear Reactor, has secured an international competitive edge with technology and expertise she has accumulated by repeatedly building nuclear power units. The country is now beefing up activities aimed at penetrating the nuclear power plant construction markets in China, Vietnam and Indonesia, which have pushed ahead with nuclear power unit construction projects.
Overseas market exploration

It was in the early 1990s that Korea Electric Power Corp. (KEPCO), which had been discharged with a national mission of supplying power since its inception in 1961, made a foray into the overseas power generation market.
About 10-odd years have passed since its debut in overseas markets, and KEPCO is now given higher marks in Asia, particularly the Philippines, China, Taiwan and Myanmar with its successful operation of power plants and offering services.
KEPCO, cashing in on its accumulated expertise and experience in the domestic power generation sector, have been accelerating its presence in the overseas markets with the goal with become a global power generation player. Like advanced global powerhouses, expanding its presence abroad has become KEPCO's key strategy designed to maintain a sustainable growth in the future by enhancing management efficiency and secure new revenue sources. KEPCO's strategy has paid off: showing off a competitive edge in Korea and abroad and raising Korea's profile.
KEPCO has already concurred about the need for expanding overseas power generation projects and its subsequent consensus has been built up over its urgency now that unlimited global competition has ushered in following global trade liberalizations measures and Free Trade Agreements.
In particular, KEPCO's overseas power generation business sector has gained momentum as a comprehensive plant export industry, as the incumbent KEPCO President Han Jun-ho has repeatedly expressed his determination to push for overseas power projects by capitalizing on its own brand power and excellent technology prowess since its inauguration at the helm of the power utility company about a year ago.
In reality, KEPCO has made remarkable strides as a Korean utility giant, which is on par with global power generation players in terms of capacity size, technology levels and management efficiency.
KEPCO, however, has faced with rapidly-changing management conditions as the pressure on the opening of the local electricity market, expansion of substitute energy and customers'demand for greater choice and calls for installing environmentally-friendly facilities. The Korean utility giant, having already gained recognition as the second power provider in the Philippines, is now turning to overseas markets. Seeing overseas market exploration as one of driving forces for future growth, KEPCO is expanding its horizon to tap the markets of China with huge potential, Southeast Asia, and other regions.
KEPCO President Han has put more energy into realizing a vision of elevating KEPCO into an energy hub corporation of Northeast Asia and furthering it into a global energy group which he declared earlier as an organizational goal.
Han has enumerated his major policies - management reform, strengthening its futuristic growth capabilities and renewing its corporate image.
The president has emphasized that efforts would be made on management focusing on cultivating world-class and specialized manpower. Investments into providing educational opportunities like masters' and doctorate degree courses would be expanded. nw

KEPCO President Han inks an agreement on exchanges and cooperation in the power generation sector with his Costa Rican state-owned power company Instituto Costarricense de Electricidad (ICE) counterpart Carlos Obregon Sept. 13 in San Jose.