KAMCO Sets Its Sights on
Northeast Asian NPL Market
Using accumulated experiences and expertise based on its own restructuring in Korea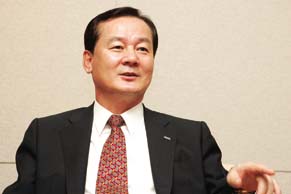 Korea Asset Management Corp. (KAMCO) is widely recognized as a major nonperforming loans (NPLs) resolution agency. In particular, KAMCO is credited with having successively cleaned up astronomical NPLs it acquired during the Asian financial crisis in 1997, contributing to solidify a foundation to turn around the Korean economy.
KAMCO has taken over 110.7 trillion won worth NPLs from financial institutions by capitalizing on 39.7 trillion won, including 21.6 trillion won in public funds raised through the issuance of NPA Fund Bonds in 1997. The company accomplished highly outstanding performance by disposing of 72.9 trillion won of NPLs and recovering 36 trillion won of public funds with advanced methods such as international bidding and ABS issuance as of the end of August 2005.
KAMCO? efforts to make the most of the experiences and know-how it has accumulated during the restructuring process have begun to bear fruit abroad, going beyond the national territory. The company is developing its own unique accumulated know-how into an overseas business arena. An amendment to the law, made last June 29, has allowed KAMCO to make direct investments into foreign NPLs. KAMCO's overseas business has gained momentum since KAMCO Chairman-CEO Kim Woo-suk took office.
KAMCO has singed MOUs on business cooperation with foreign governments and institutions to share diverse information on the resolution of NPLs, a move designed to explore a feasibility of conducing consulting services related to NPLs and investing. As a result, the company has inked such agreements with 14 NPL resolution agencies in nine countries, including China, Japan, Taiwan, Indonesia, Russia, Czech Republic, Slovakia and Mexico, calling for personnel exchanges and regularizing meetings on KAMCO? experiences in NPLs resolution.
Recognizing the limitations of the MOU framework, such countries as China, Russia, Turkey and Vietnam have sent executives and staff members of NPLs resolution agencies to KAMCO to undergo a training program on NPLs disposal. Nine seminars on the resolutions of NPLs have been so far conducted for the employees of eight NPLs resolution agencies from six countries, including -China, Russia and Turkey, and KAMCO have gained profits from the program. KAMCO held a training program for NPA resolution techniques together with the Korea International - Cooperation Agency (KOICA) by inviting 13 governmental officers from seven ASEAN countries between Sept. 1 and 14. KAMCO is favorably reacting to requests for training foreigners to establish a bridgehead in entering foreign markets by securing confidence from their respective government.
KAMCO has successfully conducted consulting services on duties like the establishment and operation of NPL resolution agencies in countries like China, Vietnam, Turkey and Bulgaria as well as NPL resolution. For instance, in 2002, KAMCO offered consulting services to the Vietnamese government on the feasibility of establishing Debt & Asset Trading Company (DATC) and State Financial Investment Company (SFIC).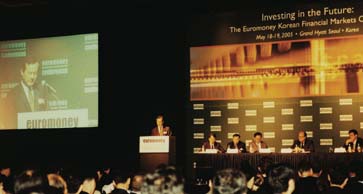 DATC, established with the help of KAMCO, was also consulted by KAMCO last January on how to dispose of its own NPLs and its operational structure. KAMCO also carried out a project to provide consulting services on the establishment and operation of an asset management joint venture, JV-AMC with an American fund in Turkey last March.

Restructuring based on Asian characteristics
With lack of previous experience regarding NPL resolution, the Korean government and financial institutions, including KAMCO, received consulting services on NPL resolution and corporate restructuring from such investment banks as Morgan Stanley and Goldman Sachs in return for the payment of hefty commissions during the Asian financial crisis to deal with unprecedented high volume of NPLs. However, these investment banks'consulting services are based on a combination of other financial institutions' experiences rather than their own ones, and there is a possibility that the Western financial institutions experiences could be very different from the Asian reality.
On the other hand, the Korean government and private institutions themselves have accumulated experiences during the latest financial crisis, a factor for drawing a keen concern from such countries as China, now pushing restructuring. KAMCO, armed with its systematically arranged expertise based on the Korean experiences, is striving to enter the foreign NPL resolution markets.
Now that KAMCO is allowed to perform such businesses as acquisition and disposal of foreign NPLs in accordance with a revision of the relevant law made last June 29, KAMCO is making preparations for fully-fledged investments abroad while scrutinizing the field experience and market information it has accumulated through foreign projects for the past four years. KAMCO is seeking to form strategic alliances with domestic investment institutions, accounting and law firms to create synergetic effects and raise investment capabilities, while strengthening investment analysis capabilities through a database of core information and complementing specialized manpower in a bid to make the new business a competitive one.
KAMCO, a public Korean organization, plans to back the government's initiative of developing Korea into the financial hub of the Northeast
Asian region by taking the lead in the private sector's entry into the Northeast Asian NPL resolution markets. The company plans to focus its capabilities on niche markets of the region with mutual connectivity and potential and efficient overseas investment projects. As part of its efforts to make its overseas investments a success, the company is considering pilot overseas investment funds with strategic partners, funds and advanced investment banks.
In an effort to wipe out some sector's worry over its overseas investment, KAMCO is seeking to institute a safeguard regime designed to preempt dangers that could occur accidentally, setting the ceiling on investments in consideration of the corporation's financial soundness and establishment of a risk management committee, among others. nw

KAMCO Chairman-CEO Kim Woo-suk

KAMCO Chairman-CEO Kim Woo-suk delivers his lecture during the Euromoney Korean Financial Markets Conference at Grand Hyatt Seoul May 10-11.