Trying Your Luck
- Paradise Walkerhill Casino has it all, roulettes, slot machines and dancing girls surrounded by beautiful sceneries


Glittering lights, roulette tables, slot machines, and gorgeous dancing girls, you name it, they got them all in Walker-hill Casino in Seoul. Most of the people who visit the Walker Hill Hotel remark about the luxurious natural environment. Paradise Walkerhill Casino is proud of its world-class facilities and services as well as Korea's most popular casino. They say come to Walker Hill next time you come to Korea. More than a hotel, they say they offer with a wide range of entertainment and things to see. Walker Hill will provide you with a change to recharge yourself and enjoy your leisure to the fullest.
People from all over the world visit the Paradise Walker Hill Casino each year. Try their luck at Korea's most famous gaming establishment, where they offer topnotch services in a most comfortable and refreshing atmosphere. Feel the excitement.
The Casino is fun and excitement 24 hours a day. They have slot machines blackjack, baccarat, roulette, tai-sai and poker to choose from. And they never close, so you can play anytime you feel lucky.
Do you know the exceptional enjoyment in store for you at the Paradise Walker Hill Casino? Every moment is a special thrill as you anticipate a win. They say they can make your dreams come true. Their friendly staff are standing by to show you the time of your life.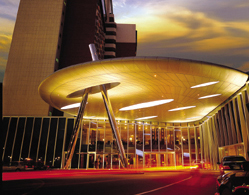 A completely new world unfolds every night at the Walker Hill Hotel. The Walker Hill Show, which has been started in 1968, brings delightful song and dance to a massive stage. They offer a unique show that provides both Korean flavor and international flair. The show is accompanied by a scrumptious dinners that make the experience all the more memorable.
Travel provides you with the opportunity to experience new dishes. In addition to the Korean, Japanese, and Chinese offerings, you can enjoy Latin American or European cuisine in a romantic setting. The chefs, who boast over 30 years of experience in their craft, are ready to make your trip a special treat. Complete relaxation is important after a long night at the gaming tables. The Walker Hill Hotel rooms provide a splendid view of the Han River. They also have villas nestled in the trees. Come and relax at Eston House, where the facilities and services are second to none.
Roulette is one of the oldest and widely known of all casino games. As it does not require a particular skill. it is very popular with beginners. This simple game is based on guessing where the ball will come to rest on the Roulette wheel.
Baccarat is originated from the French game, "Chemin de Fer"(meaning along the railroad) The rules have been slightly modified throughout the years and the game is now known as "Baccarat"(meaning zero). Baccarat is internationally renowned and boasts the highest betting action of all casino table games.
Blackjack is one of the most popular game of all casino table games. The aim is to reach a total of 21 or as close to it without exceeding it, with the cards that are dealt to you. All players play against the dealer(House) at the table. And the game begins by dealing two cards to each of the players, and then to the dealer, with one of the cards facing up, and one facing down.
The minimum and maximum bets for the Blackjack tables on the main game floor vary from table to table. Players are advised to check these limits before joining the game.
Bigwheel is a large wheel of fortune. The wheel is divided into 50 segments, which is comprised of 7 different symbols. When the wheel comes to rest, the symbol that is selected by the indicator on the outside of the wheel is the winner. Each of the 7 symbols on the wheel is connected to the betting places on the table layout. nw