Jinju,
'a Hidden Jewel of Tourism' in Korea
- River lamp floating, bullfighting, etc. mesmerize tourists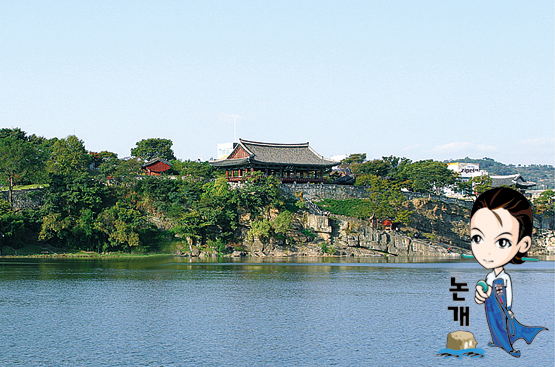 As it comes to tourism, Jinju City, a three and a half hour-drive southwest of Seoul, may be literally summed up as a "hidden jewel" among Korea's tourist destinations as if the Korean name of the city itself indicates the pearl as the city is showing off lots of the likes of river lamp floating and bullfighting, the oldest one in Korea.
Coming into October each year, Jinju transforms itself into a wonderland of lights as Jinju Namgang Yudeung (Lantern) Festival features wind lamps flying high in the sky and floating lamps along the Namgang River, cutting through the heart of the city. The festival has gained recognition as one of Korea's top 10 international festivals from abroad and in Korea, said Chung Su-gwon, director of culture at the Jinju Municipal government.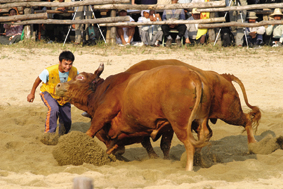 Jinju City with a population of 350,000 has a diverse, rich historical and cultural heritage, including bullfighting and Jinju City Geommu (Sword Dance), as well as scenic tourist sites beckoning to tourists. Jinju City also has bountiful tourist resources such as cuisine and specialized products like silk, and the less developed city, famous for its pristine nature and unpolluted environment is a center of fresh agricultural produce, Park Yong-deog, in charge of culture and tour at the Jinju Municipal government, said during a presentation session on Jinju's tourism held at KNTO on Feb. 23.
Tourists to Jinju can experience Korean cuisine and other culture and other courses to historical sites and sightseeing spots including Jinju National Museum preserving historical records and relics related to the Jinjuseong Castle Battle in 1592, which has been renovated at a cost of 10 billion.
The provincial city holds seven major cultural festivals, including Jinju Namgang Lantern Festival, Jinju Nongae Festival and Gaecheon Art Festival, centering around the period between May and October.
Jinju Nongae Festival is held May 13-16 every year to commemorate Nongae and 70,000 militiamen and government troops who died in the Jinjuseong Castle Battle during the Japanese invasion of Korea in 1592. The festival features traditional arts of the Jinju area such as "Uiambyeolje," Jinju Sword Dance and the Nongae performance reenacting her patriotic jump into water with a Japanese general. The festival coincides with Jinju Bibimbap Festival. Jinju Bibimbap, called "Kotbap" (flower rice) or "Chilbohwaban" (flower rice in seven colors), is a boiled rice served with fresh greens and vegetables and sliced raw meat seasoned with garlic, sesame seeds and sesame oil.
The Gaecheon Art Festival is the first of all local cultural and art festivals in Korea. It is held annually from Oct. 3 to Oct. 10, to commemorate the victory of Jinjuseong Castle Battle and hand down the spirit of Dangun, the legendary founder of the country. This festival was begun in 1949 under the name of the Yeongnam Art Festival to commemorate the first anniversary of Korea's liberation from Japan and to stimulate the development of Korean arts and culture. Since then, as the best art festival of the country, it has been held annually without fail except the Korean War in 1950 and the military coup on Oct. 26 1979. The official name of this event changed from Yeongnam Art Festival into the Gaecheon Art Festival in 1959. The festival coincides with the song festival commemorating with Korean folk song czar Nam In-su and the Jinju Silk Festival. Jinju City produces about 80 percent of Korea's silk through its own brands such as "Silkihan" and "Jinju-kira." The silk festival will feature silk products exhibitions and fashion shows.
The Jinju Namgang Yudeung (Lantern) Festival has its roots to the Jinjuseong Castle Battle in which Gen. Kim Si-min, government troops and militiamen flew pengdeung (lamps flown high using the wind) and floated lamplights down the Namgang River in a bid to repulse enemies' river crossings and to communicate with their family members outside the castle. Jinju City has changed into a sea of lamplights flying high into the sky and floating the river, heightening the festive mood to tourists during the festival, being held between Oct. 1 and Oct. 10, every year. The festival will include creative lamp making, lamplight floating, wind land flying and wish lamp hanging.
The provincial city has a tradition of bullfighting, considered to be the longest one in Korea. Jinju bullfighting, now one of the city's representative folklore events, has originated from an occasion of bullfighting celebrating Silla Kingdom's victory over a war against Beckjae Kingdom. The records on the victory and bullfighting are kept at the Louvre Museum in Paris. A bullfighting competition is being held once every year to keep intact the bullfighting tradition to an original one, during Jinju Namgang Yudeung Festival.
Jinju City is a 1,000-year-old city offering a variety of cuisine culture of its own, harmonizing marine products and wild greens and vegetables based on its mid-way location between Mt. Jirisan and the South Sea. Tourists can get a glimpse into sonbi (aristocrats) and gyobang (giseng, female entertainers serving government offices) culture. They range from traditional cuisine to Jinju Sword Dance and traditional alcoholic drinks and music instruments, including bugles.
There area numerous restaurants related to sonbi (aristocrats) and gyobang culture serving Jinju Heotjesabap and Jinju eel specialty, wrapped with sesame leaves. In old days, when rice was insufficient, Confucian scholars who couldn't afford enough rice, studying until late night and becoming hungry, sometimes a fake ancestors' memorial service to eat a food, now called Jinju Heotjesabap, which has been established as one of the city's decades-old traditional and representative foods in Jinju, a home of Confucian scholars. Theme-oriented eateries are scattered around the city, including the Meokja Street in the Jungang Marketplace and the Food Street in Pyeonggeosinan District.
The city's tourist map is divided into the Jinjuseong Castle sphere, the Jinyangho Lake sphere and Gyeongsangnam-do Arboretum area.
Jinjuseong Castle, historical monument No. 118, is famous for having one of the three "Great Victories" made during the Japanese Invasion in 1592. The General Kim Si-min won a victory at this castle, repulsing Japanese invaders. And the next year, in the second Jinjuseong Castle Battle, about 70,000 militiamen and government troops resisted to the last to die for their country. The castle, well preserved and renovated to its original state, is one of Jinju City's representative tourist spots because it is in perfect harmony with the scenic landscape of the Namgang River. Chokseongnu Pavilion in Jinjuseong Castle boasts of one of the most gracious rock walls in Korea. There are many historical relics on the site such as Jinju National Museum, Jinjuseong Imjindaecheop, Gyesasunuidan Altar, Honguksa (Temple), Seojangdae, Uiam, Yeongnam Pojeongsa (Temple) and Gongbukmun. Uiam (Righteous Rock) was named in honor of Nongae's self-sacrificing spirit. Tourists can look a glimpse into the lifestyle of ancient Koreans from the Insadong Antiques Street north of the castle.
Jinyangho Lake is a multi-purpose dam capable of accommodating 309 million tons of water. Around the lake, there are the zoological garden, Jinju Land (entertainment facility complex), Watch Tower and Water Culture Hall. Watch Tower gives a panoramic, breath-taking view of sunset on the lake. The road, filled with garden zinnias around the lake, is a favorite course for promenading or jogging.
Gyeongsangnam-do Arboretum, accommodates about 1,500 species of plants, including native and imported ones worth preservation. The 170,000-pyeong (561,000-square meter) arboretum, catering to families on excursion, consists of theme parks, including a tropical plant garden, a wild animal garden and Mugunghwa (rose of Sharon) Garden.
Jinju city is a city rich with 101 tangible cultural properties. The city preserves seven tangible cultural properties, designated as national treasures, including Yeongsanhoe Gwaebultaeng, a Buddhist painting of Cheonggoksa Temple, designated as Natural Treasure No. 302, and Danseong Seokjo Yeoraejwasang (seated stone Buddha of Danseong) originating from the United Silla Kingdom. Jinju city sword dance is Intangible Cultural Property No. 12 the provincial city has inherited from ancient Korea. Historical records, including Samguksagi, show that Korean Geommu was originated from the sword dance performed by Gwanchang (son of the General Pumil) in the Silla Period. Later in the Goryeo Dynasty, sword dance performers put on masks modeled after Gwanchang's face during the performance. During Joseon Dynasty, this gallant young boys' sword dance changed into graceful young girls' dance. After the Silla Dynasty, it had been succeeded by the gwangi (traditional female entertainers who served the government) who belonged to the Royal Court and government offices until it became extinct. The city has a history of unique traditions and dances such as Hanryangmu, Pogurakmu, Gyobanggutgeorichum and Jinju City Ogwangdae.
Tourists can enjoy hands-on tourist programs, including a silk tourist course that can take tourists to the hemp cloth-making village of Jukgok, a city-run cotton growing area where Moon Ik-jeom sowed the cotton seed he introduced from China, and "gyobang culture" experience course in which tourists can be given chances to make foods and taste them and look around silk factories. They also include a historical and cultural course involving visits to Jinjuseong Castle, Jinju National Museum and Insadong Antiques Street and Goryeo Tomb Site.
Jinju City is also famous for growing cucumbers, peppers, strawberries and other agricultural produce in clean water as well as Jang Saeng Doraji (more than 20-year-old balloon flower), a medicinal herb. Jinju City exported agricultural products, including the balloon flower.
Tourists to Jinju can also drop in such tourist attractions in its surrounding areas: Daewon-sa Temple, Guhyeong Royal Tombs, ancient Korean houses in Namsa and Sancheong Kiln Site in Sancheong County; Samseong-gung Royal Palace in Cheonghakdong; and a kiln site at Baekhyeon-ni in Hadong County; a ferry tour at Samcheonpo and Baekchon-sa Temple with the world's largest Buddhist statue lying on its side in Sacheon County; and Dinosaur Museum in Goseong County, the venue of Dinosaur World Expo 2006. nw