SLC Envisions Landfill Site
into Eco-friendly Dream Park
- Manages world's largest site in its own way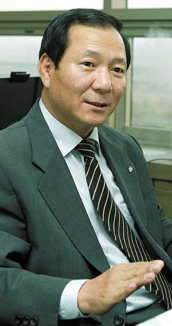 As it comes to landfills for burying waste, Sudokwon Landfill Site; being created on the formerly coastal reclamation area, may be the largest landfill on the earth. The waste disposal site, measuring about 6 million pyeong or 19.8 million sq. meters in size, is as large as seven times the size of Yeouideou, a former islet in downtown Seoul.
Such a huge landfill cannot be found in any other place in the world, and what's more significant is the way that Sudokwon Landfill Site buries waste and treats leachate in a nearly perfect way, said Park Dae-moon, president of Sudokwon Landfill Site Management Corp. (SLC).
The landfill site is originally designed to accommodate garbage from nearly all the districts of the Seoul Metropolitan area for about 30 years until the year 2023, but the lifespan of the landfill site, covering an area where 21 million people reside, may be prolonged as the inflow of food leftovers is declining and more and more counties along with other local authorities are turning to the use of incinerators for treating garbage. Ordinary houses are required to separate food leftovers from other types of garbage as the former is collected for recycling.
Advanced countries, depending on burning waste as a widespread means of treating it, have quite smaller landfills, most of which are used on a short-term basis and are spread in separate places due to such factors as costs stemming from movement. In Japan, most of the waste produced is burned instead of having a landfill, and Kansai International Airport is a good example of reusing areas reclaimed with the remnants of burning garbage.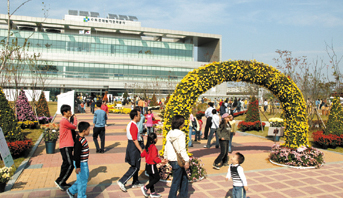 Foreign visitors touring the site, including landfill experts from Thailand and China and other Southeast Asian countries, are surprised to find out how quickly garbage disappears from the ground after it is transported there. Tour observing the site are made twice a day - one at 10 a.m. in the morning and the other at 2 p.m. in the afternoon.
Unlike the former Nanji Landfill Site, which resorted to an open-dumping method, Sudokwon Landfill Site is a landfill facility managed on a scientific and sanitary basis, said SLC President Park. Sudokown Landfill Site has established a 165-cm-long base facility, composed of a groundwater drainage layer (30 cm), lining layer (75 cm), and leachate layer (60 cm), which are designed to eradicate the source of environmental pollution caused by leachate from waste materials. For the creation of a sanitary landfill, Sudokwon Landfill Site has also built up a landfill gas collection system that accounts for changes in site conditions such as the settlement of waste materials, rainwater and leachate treatment, as well as outer riverbanks and interior roads during each step of the disposal process.
Sudokwon Landfill Site piles up waste in eight steps to reach the highest point, measuring 40 meters high, equivalent to the height of an 18-story apartment, similar to siluddeok, a traditional Korean rice cake cooked on an earthen pot, is made. Each step is filled with 4.5 meters of waste, and 50 cm of fresh outside soil is added on it in an upward waste placement method. Waste is stacked in the formation of daily unit cells in a bid to prevent noxious odors, vermin and flying debris, so visitors are surprised to see dumped waste disappear from sight within three hours of the arrival of the garbage there.
Company employees and a monitoring crew, composed of area residents, inspect the external appearance of waste and analyze the test results of collected waste under a random inspection system for waste delivery vehicles; a step to proactively prevent the illegal and concealed dumping of toxic waste. Approximately two thousand 10-ton truckloads, an average of 20,000 combined tons of waste, arrive at the site every day. Construction waste accounts for approximately 51 percent, followed by household waste with 33 percent.
Representatives of the residents around the area no longer complain about the way garbage is treated after they are given an opportunity to observe landfill sites in foreign countries to compare them with their neighboring site, Park said.
For the safe treatment of leachate, which undergoes frequent changes in quantity as well as quality, SLC always maintain safe contaminant levels through rapid improvements in the treatment process and with efficient facility management. By successfully automating the economic and efficient leachate treatment process, SLC has achieved a reduction in treatment expenses as well as global recognition for advanced technology. SLC has secured a patent on its own method of treating leachate, containing such substances as salt, particularly stemming from food leftovers, unlike those of foreign countries, an SLC official said.
SLC treats raw leachate to drop the BOD level from some 1,800 ppm to less than 5 ppm; one-tenth of the allowable level as well as to reduce the COD level from around 4,500 ppm to less than 250 ppm, below the legal standard of less than 800 ppm before discharging it. The ammonia nitrogen level of raw leachate is lowered from around 1,500 ppm to less than 10 ppm, well below the legal standard of less than 100 ppm.
Last year, SLC obtained the ISO 14001 certificate for its environmental management. It was in the winner of the Clean Water Grand Prix Award at the 9th Earth Day, hosted by the vernacular daily Chosun Ilbo.
True to SLC's cause, that waste materials are also a valuable resource, SLC is attaching priority into recycling waste and developing alternative energy. By recycling collected landfill gas, SLC currently operates and manages a 9.88MW electric power plant, and it is now building a 50MW power plant with completion scheduled for 2006.
SLC, armed with its own waste treatment expertise, has done its utmost to promote cooperative ties with foreign countries on technology exchanges as it has expanded technology exchanges with SWANA of the United States and LSA of Japan while participating in international conferences, including the eighth Special Session of the Governing Council/Global Ministerial Environment Forum of the UNEP, held in Seoul last March and participating in APLAS symposiums.
"Dream Park" Project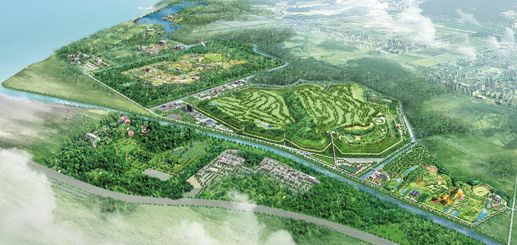 Last October, SLC finalized a master plan for transforming Sudokwon Landfill Site into an eco-friendly "Dream Park" with the consultation with relevant government agencies, including Seoul Metropolitan, Incheon Municipal and Gyeonggi Provincial governments. The plan is designed to create more space for sports and leisure activities, thus contributing to development of surrounding residential areas and the Incheon Free Economic Zone.
The long-term plan, to be implemented until 2023, calls for establishment of Wildflower Complex, Sport Arena, Nature Exploration Complex, Environmental Events Complex, Leisure & Sports Complex and Environmental Cultural Center.
As part of its efforts to transform the landfill into Dream Park, an eco-friendly environmental them park, SLC has staged a campaign to plant 10 million trees in the site area with area residents since 2002. SLC aims to develop the entire 19.9 sq. km of the landfill site and create a Wildlife Complex to provide the district of the residents of the Seoul Metropolitan area with major tourist attractions as well as a resort place.
Landfill Site No. 1 ceased to take further waste in December 2000 after accommodating about 63 million tons of waste since its debut in 1992. Landfill Site No.2 is now filled with about 30 million tons of waste, about 40 percent of its 67,000,000-ton capacity.
Landfill Site No. 1, the first of SLC's four landfill sites, has turned into a huge 760,000-pyeong field waiting for its development under the Dream Park project. The site will be developed as a Sports Arena accommodating such sports amenities and other facilities, including a public golf course, scenic observation park, trekking course, community sports facility. The Landfill Site No. 1 Stabilization Project, designed to eliminate sources of pollution in the surrounding area, was completed last December, thus paving the way for redevelopment.
The athletic park, now for public use within the precincts of Landfill Site No. 1, has already been a magnet for attracting residents, including students, who want to enjoy sports as well as spend leisure activities. About 200 people visit the athletic park with a state-of-the-art artificial lawn, opened for public use last year.
The Wildflower Complex, which broke ground last September, will likely gain ground this year. As the first step of the creation of the 661,155-sq. meter Wildlife Complex, SLC converted 66,116 sq. meters into a preservation and habitat for the genetic resource of wild plants.
SLC operates greenhouses and glasshouses to ensure self-sufficiency of trees necessary for the ongoing tree planting drive. The facilities cultivate plants and trees suitable for the soil conditions of the landfill area.
SLC is also expanding diverse services ranging from the establishment of a community support fund to culture events for the community, including the Dream Park Music Concert, Dream Park Environment Camp, Environment Conservation Drawing competition, and the Dream Park Chrysanthemum Exhibition. The cultural and environmental events are designed to help the residents of the area as well as the general public raise awareness about environment, SLC President Park said.
Sudokwon Landfill Site, once the subject of becoming one of the places, shunned or overlooked by people, promises to be transformed into a "Dream Park", filled with eco-friendly, value-added living environment, as demonstrated by the formerly landfill Nanji case. Haneul (Sky) Park and Noeul (Sunset) Park, built on the formerly landfill near the World Cup Stadium in Sangam-dong, has emerged as one of the most popular attractions favored by those who want to enjoy sports and other leisure activities. nw